We at Enhance get to chat with people from all over the world. People who have dreams, ideas, and concepts that they are excited about and eager to get started. Frankly, we love it. We are so keyed into the excitement and high that one gets when they are in pursuit of their next big idea, as it's a very familiar feeling to us! How do we know what that feels like? We're inventors ourselves!
As such, we like to tailor our approach to product development to highlight the best, most fun, and most meaningful aspects of the process so as to ensure that our inventor clients not only receive professional-quality, meaningful product development and design materials, but also so our clients enjoy this exciting and exhilarating creative process!
In our Invention Lab, we are constantly brainstorming, and analyzing new ways that we can solve everyday problems with the hopes of identifying the next big thing, or sometimes even the next little thing that can make life a little bit easier or more enjoyable!
A few years ago, I identified a potential new kitchen utensil that may alleviate the need to have both a spatula and a set of tongs in one's kitchen drawer. I created some sketches on my own, and built a prototype with off-the-shelf parts and tried it out! Lo and behold, it worked like a charm! I presented the idea to our team and they took my idea from being a simple concept, and made it into a beautiful and elegant tool that anyone would be proud to have in their own kitchen. Each step of the process brought new excitement! As I was shown the ideation sketches, the CAD, and ultimately the renderings, I got to see my idea come to life. I went into it thinking that I knew how the product would work and what it would look like, and at the end understood so much more about the different possibilities for mine, or any project!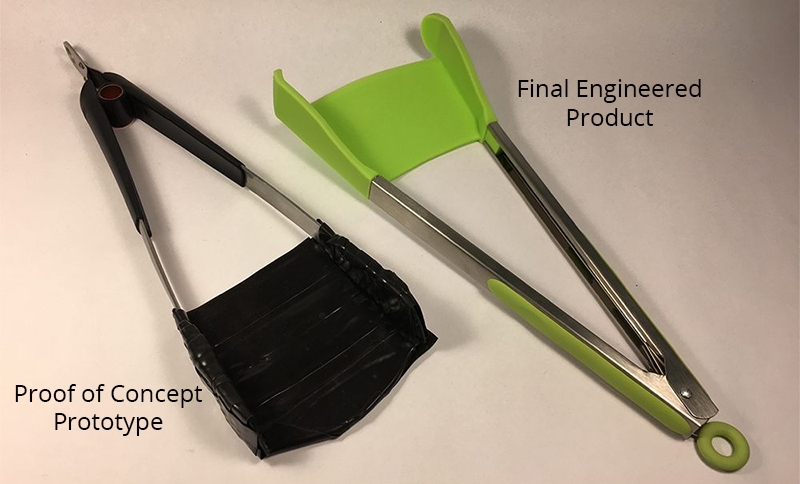 There is a pride that inventors take in their work and projects, and even though I encounter new projects and ideas every day, I still get excited when are working on something new. I especially love to work with inventors as they see their own ideas come to life– What a rush!
We know how to make this process as fun and exciting as possible, because we know how we would want it to go if it were us! Why? Because we're inventors too!
And if you're interested in that product I invented, it has been licensed and is now available at https://clevertongs.com.
——-
Enhance Product Development is a professional design firm that specializes in launching new products for inventors, entrepreneurs and start ups.  For product development inquiries please contact Enhance Product Development at https://enhancepd.com/contact/ or call us at 877-993-6426.
Related Links: