Ah to be a kid again, wouldn't we all want to go back to that time to dream of the new cool toy you desired. Or maybe hang out with your favorite Superheroes?
Recently I got as close as it comes while attending the 2015 Toy Fair held in New York City at the Jacob K. Javits Convention Center. (FYI, my desired toy are the new Lego sets, all 331 new sets!) Along with the classic toys and board games, there were many new innovations at this year's event that have come a long way since I was a kid. There were Superheroes' and Cartoon Characters galore at the event including the Power Rangers.
One of the most impressive new and innovative toys was Anki Overdrive! Anki Overdrive is a smartphone-controlled robotic racing game. The company improves on its previous Anki Drive by adding more tracks, and additional game-play modes. What a great excuse to get this one for the kids…"Yes dear, it's for the kids!"
The Toy Fair proved to be a successful show! There were enough toys and exhibitors to fill over seven football fields with the latest innovations in toys! This is beneficial for Enhance as we met with a variety of different types of companies that are looking for new innovations to add to their product lines. I met with a variety of the top manufacturers in the industry, some of who we have met with before, but also new ones to add to our network of contacts. To name a few companies we met with from the show include:
Spin Master, Toysmith, Melissa and Doug, Alex Brands, Party Animal, Blue Orange Games, Playful Smart Games by Patrix, Recent Toys, Nowstalgic Toys, Educational Insights, Franklin Sports, Caramundi, Westminster, The Learning Journey, SMART Toys and Games, OYO Sports, Rhode Island Novelty, Alderac Entertainment Group, Inc, Upper Deck, Elope, Hog Wild Toys, Continuum Games, Play Visions, TDC Games, Endless Games, Manhattan Toy Company, Koplow Games.
I even was able to catch a glimpse of Seth Meyers who was in attendance doing a spot for Late Night with Seth Meyers. Also, here is the clip of his take on the Toy Fair.
I had to snap a picture of Bill Murray, for Jill in the office. Bill is one of Jill's favorites. No, not the real Bill Murray, but a larger than life action figure of Dr. Peter Venkman from the Ghost Busters.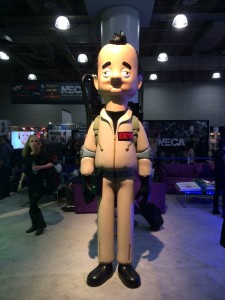 Lastly, look at what the team at Enhance did to my office while I was out to help me celebrate my birthday! 350 Balloons apparently took the staff less than 20 minutes to complete, impressive!